Since more and more people are now adding "traveling the world" into their bucket list, we thought of putting these travel hacks together to help modern travelers out there. Great for newbies and jet-setters alike, these travel tips and tricks will not only let you save time, money, and effort but most importantly, reward you with a stress-free trip. Let not an incident ruin your dream journey. Read on and be a smart traveler this 2017.
"The world is a book and those who do not travel read only one page." – St. Augustine
Money-saving tips that will blow your mind.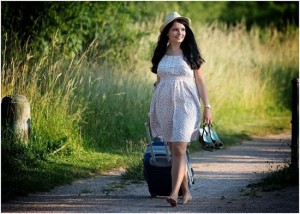 Being a frugal and a practical traveler is never easy. You need excellent research skills to get the best deals available. But don't fret, these money-saving hacks got you covered.
 Book flights using incognito windows
Also, don't forget to clear those cookies. Something called "dynamic pricing" means that refreshing your browser window a million times a minute will not make a flight cheaper. In fact, it may cause the price to go up as it changes based on demand. Airlines and travel websites will use your search history against you. Web application developers say that cookie tracking is real. Cookies are pieces of information that store the details of your web browsing. Therefore, deleting those effectively removes your search and opens a higher chance of getting better deals.
 Know that you have a 24-hour window to get a refund
Yes, even non-refundable flights generally have this booking cancellation leeway. In other words, you cancel your reservations at a certain timeframe without having to pay a fee. As such, keep track of your flight for another day and should you find a better rate, feel free to cancel and rebook.
 Choose the best credit cards
While traveling, it's best to check the perks and rewards that your preferred credit cards offer. You can save bucks from this trick. "How?" You ask. It can cover your insurance when renting a car, grab some free or discounted hotel room upgrades, offer priority access to airline lounges or get some shopping discounts and freebies.
Hacks that will help you get a worry-free trip.
 Download your airline's app
This will not only save time but will also put a lot of convenience on getting real-time updates on gate changes or delays. Not forgetting other vital information and some recommendations too, earning points and rewards. You also get to go "paperless" when boarding at most airports.
 Wear something with deep pockets
during your flight
Apart from wearing the most comfy outfit, consider this trick as it can save lots of time in getting your boarding pass while providing easy access to other valuables like cash and even your mobile phone.
However, you should never underestimate the wonders of a fanny pack. It may look so "old school" and out of style, but it does not only stash most of your valuables and give them a nice hold, but also expedite security checks. Now that you know, you may want to own one and wear them in your next trip.
 Be a roll-don't-fold devotee
Every traveler has a baggage. So whether it's a luggage or a comfy backpack, it has to be well-packed, space-saving and, of course, organized. Traveling light gives you dozens of advantages, including going on a trip happy and cheap. But most importantly, traveling light lets you carry your own luggage. Doing this makes everything sturdy and less likely to get lost, broken, or stolen. And in case there is a quick, last-minute change in plans and all, it doesn't stress you out that much.
Don't forget to bring Ziploc resealable plastic to keep your little stuff safe and intact. Having some dryer sheets in between clothes gives them a fresher smell, not to mention how it could reward your used clothes from not getting too smelly and "rotting" your entire suitcase.
Things You Should Not Put Inside Your Wallet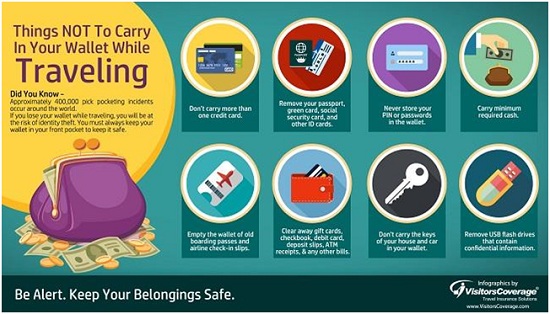 Well, the infographic says it all. Keeping an eye on your valuables is good but preventing any untoward incident from happening is way better. So it's always best to be smart in keeping your belongings safe, just how you want you and your travel buddies remain protected at all times.
Following the guide can spare you from being one of the targets of pickpockets and thieves. Believe us, losing your wallet or purse can cause headaches and hassles more than you could ever imagine.