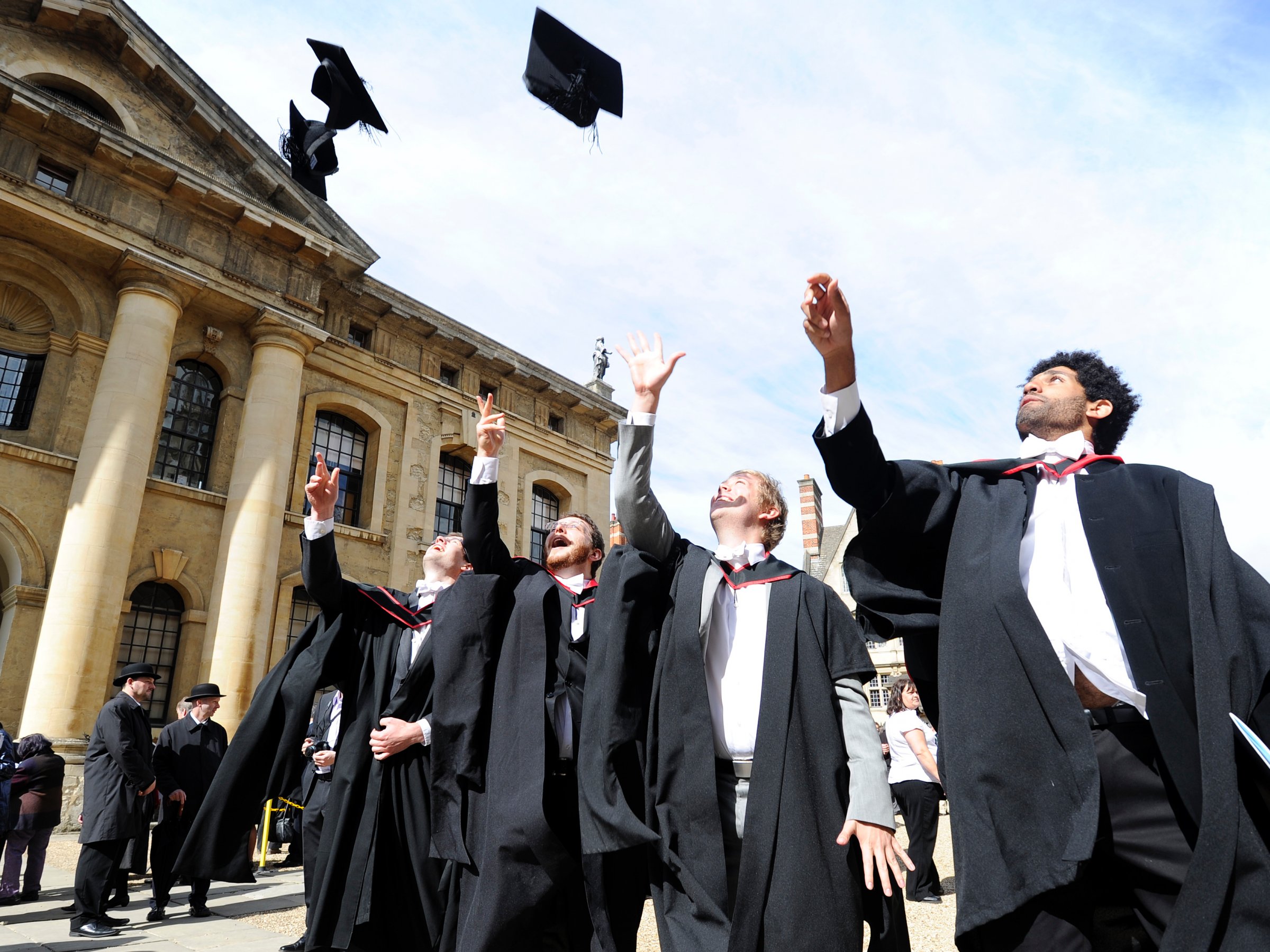 A group of graduates throw their caps in the air for a photograph after a graduation ceremony at Oxford University, Oxford, England, May 28, 2011.REUTERS/Paul Hackett
Most people know that rape and sexual assault are wrong, but that knowledge hasn't prevent either crime from occurring at alarming rates.
And yet some students U.K. universities are balking at newly instituted freshman classes on consent, calling them "patronizing," the Sun reported. 
For roughly five years, the University of Oxford has offered such workshops — but for 2016's incoming freshman class, consent classes will be "compulsory," according to the BBC. 
"It's not really a class; more of a conversation," Orla White, vice president for women at Oxford University's student union, said in an email. White coordinates the 90-minute workshops, which are student-directed, with moderators ready to "encourage contributions, give factual information and ensure that the discussion stays productive and respectful, she explained.
"We're aiming to break taboos, start a conversation and dispel myths about sexual violence," White said. The workshops address statistics, hypothetical scenarios and common misconceptions about consent.
Schools across the U.K. have recently launched similar courses. At Warwick University, workshops take aim at rape culture and rape myths; at York University, students learn about the damaging nature of toxic masculinity and victim blaming. 
But lessons on "how not to sexually assault fellow undergraduates," to borrow the Sun's phrasing, have sparked controversy among students who feel the instruction is condescending.
York University students walked out of consent classes last month, while at Warwick University, student George Lawlor — of the "this is not what a rapist looks like" sign — complained about the "incredibly hurtful" nature of the courses in an Oct. 2015 essay for the Tab.
"I don't have to be taught to not be a rapist," Lawlor wrote. "That much comes naturally to me, as I am sure it does to the overwhelming majority of people. ... I already know what is and what isn't consent. I also know about those more nuanced situations where consent isn't immediately obvious as any decent, empathetic human being does. Yes means yes, no means no."
If only things were so simple. Say most people can separate okay behavior from not okay behavior, a yes from a no. That doesn't explain why rape and sexual assault happen at the rate they do — and on U.K. university campuses, that rate is fairly high. 
In January, 2015, the Telegraph published the results of a survey it commissioned on sexual assault at universities: Approximately one in three female students polled had "endured a sexual assault or unwanted advances" while at school.  
The perception that smart people know better than to commit rape was recently challenged at Oxford, when a 23-year-old student was arrested after allegedly sexually assaulting one of his peers. 
"The nature of the allegations are truly shocking," a source told the Sun. "He is a highly intelligent young man. His arrest has shocked the university community."
The problem? Many people accused of rape do not seem to understand the nature of consent. During a deposition for his upcoming rape trial, NBA player Derrick Rose not only admitted that he did not know what the word consent meant, but also asked for a definition. 
Not even attending one of the world's top universities equips everyone to understand consent. For evidence, look no further than Brock Turner, who sexually assaulted an unconscious woman behind a dumpster while he was a student at Stanford University. 
Instead of taking responsibility for his actions, Turner blamed his actions on alcohol. It's possible that no amount of prison time would have convinced him otherwise, because Turner did not see himself as a rapist. 
Classes on consent appear to have positive effects. One student who attended a voluntary consent workshop at Oxford in 2014 deemed it a "necessary" conversation for students to have. 
"We left more aware of the complexity of consent and how it depends on a nuanced understanding of context rather than a mere box-ticking exercise," she wrote an essay for the Guardian.
As White said in her email, the workshop typically gets "an overwhelmingly positive response" from participants. 
"Many of those who attend a workshop one year will go on to facilitate them the next, and the student union offers further training and discussions on things like supporting survivors or being an active bystander for those who want to learn more," she said.
Read the original article on Mic. Copyright 2016. Follow Mic on Twitter.