Many famous singers used to be part of some bands. However, they broke off and started their successful solo careers. Let's see who they are and to which bands they used to belong.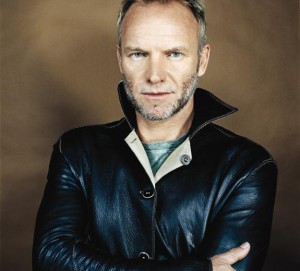 Sting
Sting (Gordon Matthew Thomas Sumner) used to be the bassist and lead singer for the rock band called The Police. The band was formed in London back in 1977. It was a very successful band with many world-famous songs like Every Breath You Take, Roxanne, Every Little Thing She Does is Magic, and Message in a Bottle.
Sting left the band in 1984 and released a solo album named The Dream of the Blue Turtles in 1985. His solo success was huge. He even got his first number one record in the US with a single All For One in 1993, which was performed together with Bryan Adams and Rod Stewart. In total, Sting has sold more than 100 million records. He has also performed in many movies and was part of the Band Aid and Live Aid events in the 1980's. Sting was a member of many Amnesty International concerts in the 1980's. Even to this day, he continues to be one of the world's greatest activists, helping people in need.
Gwen Stefani
Gwen Stefani was the lead singer of the band No Doubt from 1994 to 2004. This band had a huge success back in the 1990's. Their third album named The Tragic Kingdom had many hits, such as Don'€™t Speak, Just a Girl, and Hey Baby. They sold more than 16 million records around the world. When she decided to leave the band, she released her debut album called Love. Angel. Music. Baby. Although many people doubted her solo success, her fame became even bigger with this solo album. Her the third single from the album called Hollaback Girl was the first digital download in the USA to be sold in more than 1 million copies.  Gwen also owns clothing and fragrance lines.
In 2009, she went back to No Doubt, and they released the album Push and Shove in 2012.
George Michael
George Michael (Georgios Kyriacos Panayiotou) used to be a member of a band called Wham! (from 1981). The band was very popular, but Michael left in 1986 to go for his solo career. One of his first songs was a duet with Aretha Franklin called I Knew You Were Waiting. Even before he officially left the band, Micael had a few enormously popular solo singles – Careless Whisper and A Different Corner. He released hiss first solo album in 1987 named Faith. However, the first single from this album was banned on many U.S. and U.K. radio stations due to its problematic lyrics.
George Michael died on December 25, 2016, which is somehow funny because one of his most famous songs is Last Christmas with lyrics saying:
"Last Christmas, I gave you my heart
But the very next day, you gave it away
This year, to save me from tears
I'll give it to someone special"
Beyonce
Beyonce Knowles-Carter (or simply Beyonce) used to be a member of a female R&B group called Destiny's Child. They broke up in 2006 to enable Beyonce to pursue her solo career freely. One interesting fact about Destiny's Child is that her father, Matthew Knowles, was the manager of the group. The group was very popular, but still, Beyonce had something in herself which was bigger than this group. She was a hidden star.
In 2003, Beyonce released her first solo album called Dangerously in Love. This album has sold more than 11 million copies. She even acted a bit and got a Golden Globe nomination for the performance in the movie Dreamgirls. Her album from 2008 produced one of the most popular women's songs called Single Ladies (Put a Ring On It).
Phil Collins
Philip David Charles or simply Phil Collins was a drummer and a lead singer in a rock band called Genesis (from 1970). He played drums from 1970 to 1975. In 1975, he replaced a former singer Peter Gabriel on his lead vocal position. Collins officially left the band in 1996, but Genesis continued to exist until 1998. Songs such as You Can€™'t Hurry Love, A Groovy Kind of Love, and Easy Lover used to be enormously popular in the UK when released. On the other side,  Against All Odds (Take a Look at Me Now), Another Day in Paradise, One More Night and Sussudio were hits in the USA. Many of his old songs are very popular even today.