Who wouldn't want to cruise on a luxurious superyacht? Booking for your luxury dream cruise may seem quite impossible to achieve because of its high travel and accommodation costs. Now, imagine how expensive and challenging–yet–fulfilling it would be to own a superyacht like this $4.8B luxury vessel.
"There is nothing — absolutely nothing — half so much worth doing as simply messing about in boats. In or out of 'em, it doesn't matter. Nothing seems really to matter, that's the charm of it." – Kenneth Grahame (Wind in the Willows).
Surprisingly, although the so-called "most luxurious yacht" made some of the mainstream media pick up the idea of its existence and extravagance, it was a massive hoax. Barely what was said about the yacht was real. Read on and have a sneak peek of its imaginary interiors, exteriors, and grandiose features.
 The $4.8B History Supreme is a golden lie.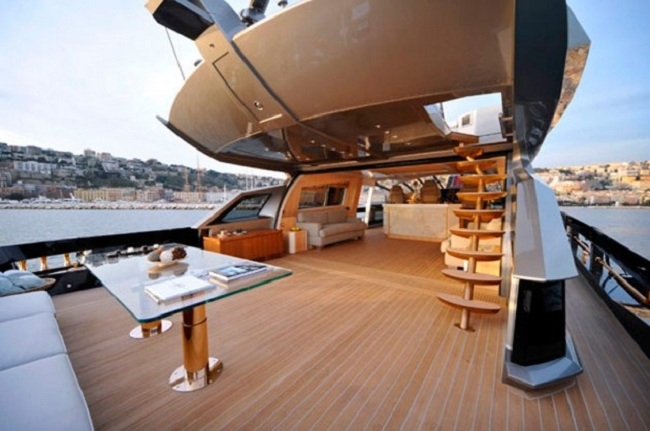 Valued at a whopping 4.5 to 4.8 billion dollars, History Supreme was allegedly designed by Stuart Hughes, a renowned U.K. luxury designer. The yacht was made out of solid gold and platinum. Reportedly, it took the team over three years to complete building the "superyacht" for an anonymous Malaysian businessman. The "Newsflash" actually took the public by storm when it went viral in 2011. A whopping $4.5 billion dollars?
However, since some mainstream sites and blogs reported about its existence, the authenticity of the 'tale' as well as its details was somehow left unquestioned – at least for a few days. Many had wished that they'd get a chance to explore the "world's most expensive yacht." Others would have done anything to experience History Supreme's rare and ultimately lavish features.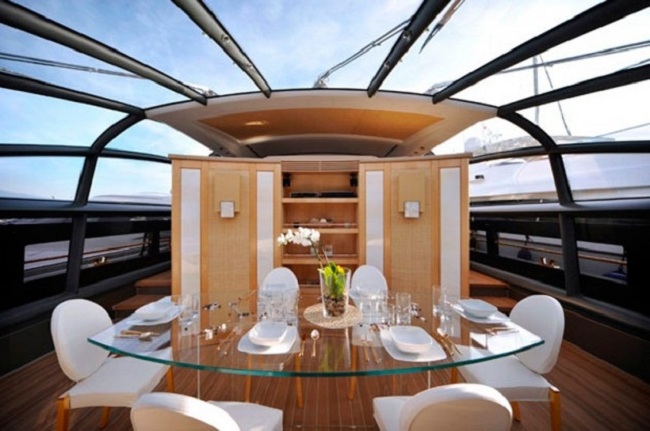 Gold Coated
This pricey 100-foot luxury vessel was coated with a thin layer of solid gold, its dining area, deck, rails, staircases, and anchor, As such, it gained massive attention in a snap of a finger. According to a published listicle, the vessel boasted the following:
A wall made out of a meteorite rock.
A statue made from genuine Tyrannosaurus Rex bones.
A 68 kg 24-carat gold Aquavista Panoramic Wall Aquarium at the master suite.
It had a liquor bottle featuring an extremely rare 18.5-carat diamond.
An iPhone wrapped in 500 cut diamonds, a 7.4 carat pink diamond, and a rare 8 carat diamond.
Perhaps, the superyacht's exaggerated and overstated magnificent characteristics made some people, especially who own luxury yachts, raise their eyebrows. They began to get curious and doubtful. After a thorough investigation and research, a report was released to confirm that History Supreme superyacht story was fake. Had it not been for Motor Boat and Yachting, maybe we'd still be believing in the hoax.
 Stolen Photographs
An Italian yacht building company, Baia Yachts,  told MBY,
 "Who would believe that a boat would have 100 tons of gold on board? They took some pictures from our website without our permission. We will write him a letter asking him to take them down, but we are not thinking to go legal. It's such a stupid story it's not worth it."
It turned out that the so-called buyer was an "anonymous Malaysian businessman" and was also the biggest loophole of the superyacht's tale. "I can't believe people would believe someone would be so stupid to commission this boat," Mario Borselli,  sales manager at Baia, told MBY in an interview.
 
Deciphering the hoax
According to Forbes' 40 Malaysian Richest People, in 2010, only three people in the country could afford such a boat. This gave a hint that only the three could spend such a massive chunk assets to purchase this 100ft, golden-hulled yacht. As such, out of the trio, it would have been very strange for two of them to make the purchase as they were aged 72 and 87 at the time. There was no way they could prioritize a luxury vessel over other things and investments, right?
Well, owning a yacht is somehow associated with the most affluent personalities and living with an unrivaled extravagance. Only the society's top crust can afford. For some, investing in a private yacht may seem mere luxury or status symbol. However, for yacht owners, it's more of fulfilling certain personal desire and pleasure.
Yachts are tagged as the ultimate toys for the "uber-rich" people. These luxury vessels are the owners' sanctuaries. Owners experience some sense of joy, serenity, and fulfillment in these vessels. The bottom line is, most of us wish to get a chance to board a superyacht at least once in our lifetime.