In the age of the Internet, it is easier than ever to earn some easy money. Hundreds of people around the world earn solely from their YouTube channels. They have some interesting content which attracts thousands of viewers daily. Do you know how? Here, we are presenting to you some of the most successful YouTubers, and your only task is to look at their profiles and Youtube channels and learn from them. The rest is up to you and your own creativity. 
 Epic Rap Battles of History
(14,202,445 Subscribers)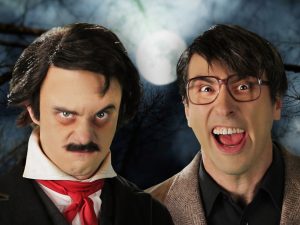 Epic Rap Battles of History is a YouTube channel created by Nice Peter (Peter Shukoff) and EpicLLOYD (Lloyd Ahlquist). The series creates verbal rap battles of famous real and fictional characters. At the moment, the Epic Rap Battles of History has 14,202,445 subscribers and 2,630,395,620 views.
Even though their early episodes featured only the two characters (Peter and LLOYD), in the newest videos, there are many guest appearances. For example, in the rap battle between Trump and Hilary, there are EpicLLOYD as Trump, Kimmy Gatewood as Hilary, and Nice Peter as Abraham Lincoln.
 Ray William Johnson
(10,407,744 Subscribers)
Ray William Johnson is an American comedian and rapper. However, he is better known for his YouTube channel and web series called Equals Three. Up to now, his channel has reached more than 3,017,203,702 views and 10,407,744 subscribers. It is definitely one of the most viewed channels on YouTube. He also participated in some of the videos the Epic Rap Battles of History has made. You can see his channel here.
 JennaMarbles
(17,100,702 Subscribers)
Jenna N. Mourey or Jenna Marbles is an American YouTube personality, vlogger, and comedian. She is seen as the "queen" of YouTube. There are more than 17 million subscribers, and her channel is the most subscribed to female channel on YouTube. She has uploaded more than 300 videos so far. Jenna was born in 1986 and holds a BSc degree in Psychology and Master degree in Sports Psychology and Counseling.
 The Fine Brothers Entertainment 
(15,109,959 Subscribers)
Benny Fine and Rafi Fine are the guys behind FBE YouTube channel and the creators of the extremely successful React channel. On this React Channel Kids React, Teens React, Elders React and YouTubers React to various things/people/ events – all of their videos are going viral. TheFineBros are among the first YouTube stars – they have been making videos since 2004. Their first channel has more than 15 million subscribers, and the React channel has 7,301,426 subscribers up to this moment. There are more than 1 billion views at the React Channel and more than 5 billion views at the FBE YouTube channel.
HolaSoyGermán
(31,368,392 Subscribers)
HolaSoyGermán is the seventh most successful YouTuber up to now. This guy was born in 1990 in Chile. Germán Alejandro Garmendia Aranis (his real name) is a YouTube comedian, musician, and writer. Apart from making videos, he is producing songs with his band. At the moment, his channel has more than 31 million subscribers and 3,037,827,088 views. 
 Yuya (17,940,265 Subscribers)
Mariand Castrejon (Yuya) was born in 1993 in Mexico. She has been making videos about beauty on her super successful channel with more than 17 million subscribers and almost 2 billion views. In February 2017, her channel was the most subscribed channel from Mexico, and it grows at a rate of about 60,000 new subscribers weekly.
 PewDiePie
(54,468,916 Subscribers)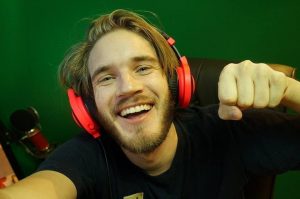 Felix Arvid Ulf Kjellberg or PewDiePie is a Youtube personality. He is a Swedish comedian and 'the king of YouTube.' With more than 54 million subscribers, he's by far the most famous YouTuber in the world.
Back in 2014, his channel became the most viewed channel of all time. Up to now, he has uploaded 3,140 videos with over 14 billion views.  His girlfriend from Italy, Marzia Bisognin, is also a YouTube personality, formerly known as CutiePieMarzia but now she is simply Marzia.
 Smosh
(22,609,293 Subscribers)
Smosh is the American Youtube sketch-comedy duo consisting of Ian Andrew Hecox and Anthony Padilla. At this moment, their channel has more than 22 million subscribers and 6,357,077,617 views. Since 2012, they have had three more YouTube channels, ElSmosh,  Shut Up! Cartoons, and Smosh Games.
 VanossGaming
(20,307,619 Subscribers)
Evan Fong, or VanossGaming, is one of the most popular video game commentators in the world. This Canadian offers helpful gameplay tips in his videos. He launched his channel in 2011, and up to now has more than 20 million subscribers and almost 7 billion views of his 600 videos.