Have you ever wanted to visit some beautiful places from around the world but you never had time. Well, now that you're retired is the best time to travel. Whether you are searching for the best low-cost retirement places or simply for the most beautiful ones, you will surely make the right decision wherever you choose to go.
Here are some of the most beautiful natural places for you to visit now when you are free from work.
Japanese blooming gardens

Even though trees and flowers bloom in different moths, from February to early May, Japan becomes a magical country. Cherry trees bloom all over the country, with its marvelous-looking flowers. Some specific places are to be visited for the best 'cherry' view, and those are Hirosaki Castle Park (Hirosaki City), Goryokaku Fort Park (Hakodate City), Kakunodate (Akita), Ueno Park (Tokyo), and Maruyama Park (Kyoto). Ueno Park is the most crowded one, having more than 1,000 cherry trees around Shinobazu Pond.
Moraine Lake in the mountains of Canada
Moraine Lake is placed in Banff National Park in Canada. It is glacially fed, and when it is full, it has a specific shade of blue. Tourists from all over the word visit this lake, especially those who love hiking. So, if you like walking and hiking, this destination is perfect for you – fresh air, nature and beautiful landscape.
The rice terraces of Yuanyang County, China
The Yuanyang Rice Terraces are the most popular rice terraces in China. They were dug out by the Hani people and placed in the southern Ailao Mountains.The best time to visit this place is after the irrigation, which is during February. From February through March the terraces are covered by lots of colorful flowers – most commonly pink peach blossom and white pear blossom. The sunrises and sunsets are marvelous, so many photographers come here early in the morning or before the sunset.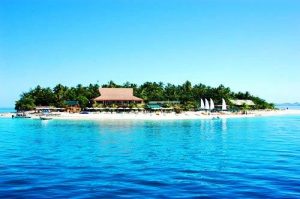 The serene blue lagoons of the Fiji island
Fiji is an island country located in the South Pacific Ocean. Surrounded by a  beautiful lagoon, it is a source of never-ceasing beauty. Fiji Island is the best place for both physical and psychological recovery. Many traveling agencies offer cruises around the island and over the Pacific which is a special kind of experience never to be forgotten.
The Plitvice Lakes waterfalls in Croatia
Plitvice Lakes National Park in Croatia has been part of the UNESCO World Heritage since 1979. Every year, more than 1 million visitors go there to relax and enjoy the nature. During long warm summer months, many people choose this destination for its mild climate and cool temperatures. During July and August, the average temperature is 17.4 °C (63 °F). However,  during winter (December and January), these lakes are frozen. There are 16 lakes to be seen here.
The Azores in Portugal
The Azores is an archipelago formed by nine volcanic islands located in the North Atlantic Ocean. Azorean people tend to guard their nature, so there are very few buildings here. It consists of mostly protected areas and marine reserves. Just last year, this place was named the world's best destination for sustainable tourism. The Azores' government has the intention to produce 75% of the islands' energy from renewables by 2018. It is not a wonder that this place got the highest award from Quality Coast, a European Commission-supported certification program.
The Salar de Uyuni, Bolivia
Salar means 'salt flat' in Spanish. It is "the place where sky and ground meet" and the world's largest salt flat cover. The Salar de Uyuni is located in the South West Bolivia, at 3, 656 meters above the sea level. One interesting thing about the place is that it is a major breeding ground for several species of pink flamingos. Also, this place has 50 to 70% of the world's lithium reserves.
Ride along the canals of Venice
The Grand Canal in Venice has always been considered as a romantic place. Riding along the canal with your soulmate is a one-time experience. If your soulmate is not with you, then your friends or family members could be an appropriate replacement. The most important thing is not to be alone while enjoying this beautiful Italian site.