A great mind can travel a thousand realms in a second. And what greater way to travel with your head than reading good books that take you to the farthest places, unimaginable circumstances, and endless possibilities. These books are greatly appreciated for a reason. You should seek to know the by reading them. 

"Good friends, good books, and a sleepy conscience: this is the ideal life."
― Mark Twain
 

Penryn and The End of Days Books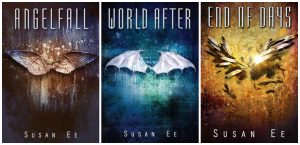 The three books namely (Angelfall, World After, and End of days) were written by Susan Ee. These books tell the story about a girl who survives the apocalypse and does her best to rescue her sister while angels are about to destroy the world. She is bound to meet an ally, and their trust toward each other is tested journey together to evade the fighting angels and demons alike.  

 

The Lone City Trilogy



The trilogy contains three books,  namely The Jewel,  The White Rose, and  The Black Key.  It was written by Amy Ewing. The book is about a girl named Violet and her journey in the Jewel. She is bound to serve the royalty that bought her through an auction. She and many others that were bought at the Auction were not meant to have normal servitude.
With their ability and training as surrogates, they are obliged to carry the royalty's offspring which, in turn, endangers their lives. Violet soon learns that the Jewel doesn't sparkle the way it is perceived in life. Royalties are cruel and only care about themselves and how other royalties deem them. Her abilities are interesting, especially when faced with the challenge of bringing down the walls of The Jewel and freeing themselves from slavery.

 

The Beautiful Disaster



Jamie Mcguire wrote this book. It is a compelling story about Abby Abernathy, a good girl who meets Travis Maddox, a badass and an underground fighting ring champion. Abby struggles to keep distance from her past while Travis tries to break the walls that she's built around her. If you're up for a bad boy charmer, you should start reading this one right now.

 The Providence Trilogy 

This is a trilogy (Providence, Requiem, and Eden) by Jamie McGuire. Nina has just lost her father when she meets Jared Ryel. An unexplainable attraction with a stranger leads her to discover things she never knew were possible. The story has a twist at the beginning that will surprise you as it hardly gives a hint in the first few chapters. And when you're in the twist, it will surely turn you upside down. 
 The Selection Trilogy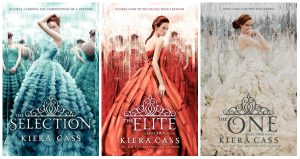 This one contains The Selection, The Elites, and The One. It is authored by Kiera Cass about an America Singer who is selected in a quest to win the heart of Prince Maxon Schreave. This trilogy even extends to other two novels, namely The Heir, and The Crown.
The first three books are remarkable since the ending of each book doesn't seem like an end. It is like a long novel that has been appropriately divided into three good books. The writer even made novellas out of the trilogy's characters, including The Guard, The Queen, and The Favorite.

 

When



This is a stand-alone book written by Victoria Laurie about a shy girl, Maddie Fynn,  in her high school. She has the ability to see digits on everyone's forehead. These digits turn out to be each person's date of death. What makes her realize this is the early death of her father. Forced to make take advantage of her ability by her mother, she takes on a client. This client's son soon gets Maddie tangled up in a murder case. 
These are just some of the books that you should write on your list after reading Twilight, Hunger Games, and Divergent.