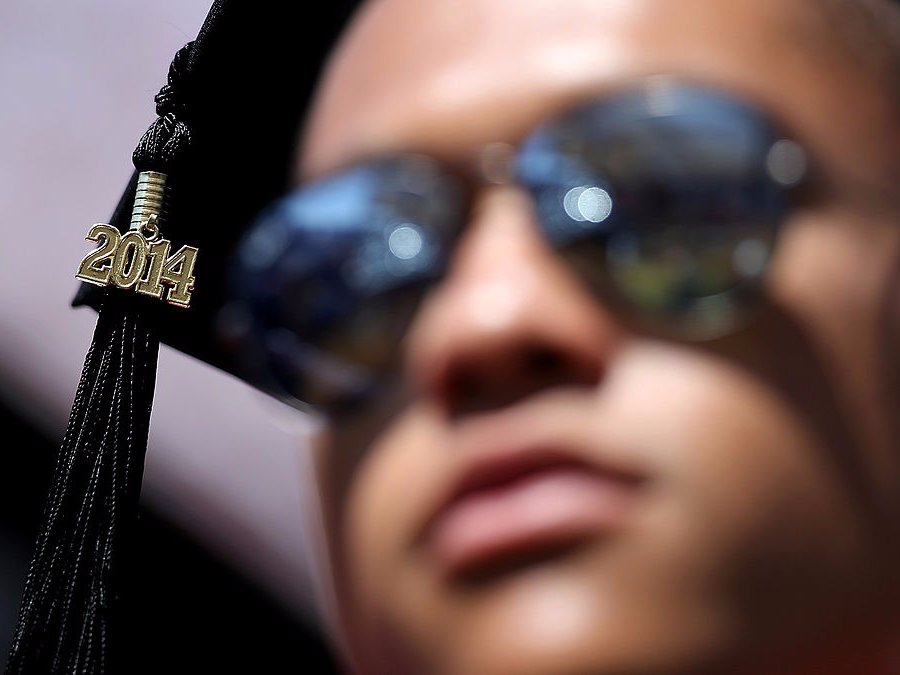 Always keep a close eye on where your monthly payments are going. Justin Sullivan/Getty
Student loan servicer Navient found itself in hot water with a consumer watchdog in January, when the Consumer Financial Protection Bureau announced a long-anticipated lawsuit against the company.
Navient, formerly known as Sallie Mae, is the nation's largest servicer of both federal and private student loan debt.
For years, the CFPB alleges, Navient loan servicers steered borrowers who were struggling to repay their loan debt in the wrong direction, "providing bad information, processing payments incorrectly, and failing to act when borrowers complained."
One of Navient's biggest transgressions, the CFPB alleges, is that Navient representatives encouraged borrowers to put their loans in forbearance even when it wasn't the best option. By doing so, Navient potentially added $4 billion to its own coffers in the form of additional interest charges.
The lawsuit is a major wake-up call for the student loan servicing industry as a whole. It should also trouble the millions of student loan borrowers who may rely on their student loan servicer for advice when they are deciding how to repay their debts. With vast numbers of customers to support and an increasingly complicated menu of federal repayment plan options to sort through, student loan servicers may not be the best sources of guidance.
Here are three lies student loan servicers may tell you:
1. 'Can't pay? You're better off putting your loans in forbearance.'
When you can't scrounge up the money to cover your student loan bill, forbearance can sound like a dream option. Forbearance allows borrowers to pause student loan payments for up to 12 months at a time. Your loan servicer may encourage you to put your loans into forbearance because it is a much easier process on their end.
But here's what they may not tell you: Interest will continue to accrue on your loans. So while you enjoy the break from those student loan bills, your loan balance will balloon more and more every day. Over time, you could bring your loans out of forbearance only to find out you now have even higher monthly payments because your balance has increased.
If you know you will be unable to make your federal student loan payments for an extended period of time, a better option may be to enroll in an income-driven repayment plan. IDR plans can reduce your payments to an affordable amount based on your annual income (sometimes as low as $0/month).
Interest will still accrue if you enroll in an IDR plan; however, the government may cover your unpaid interest charges if your monthly payment is not enough to cover them. That benefit lasts for up to three consecutive years from the date you enroll in the IDR plan. And it does not apply to borrowers whose loans are forbearance.
Another perk of IDR plans is that your remaining debt is generally forgiven after your plan period is over — from 20 to 25 years, depending on which plan you are enrolled in (see chart below).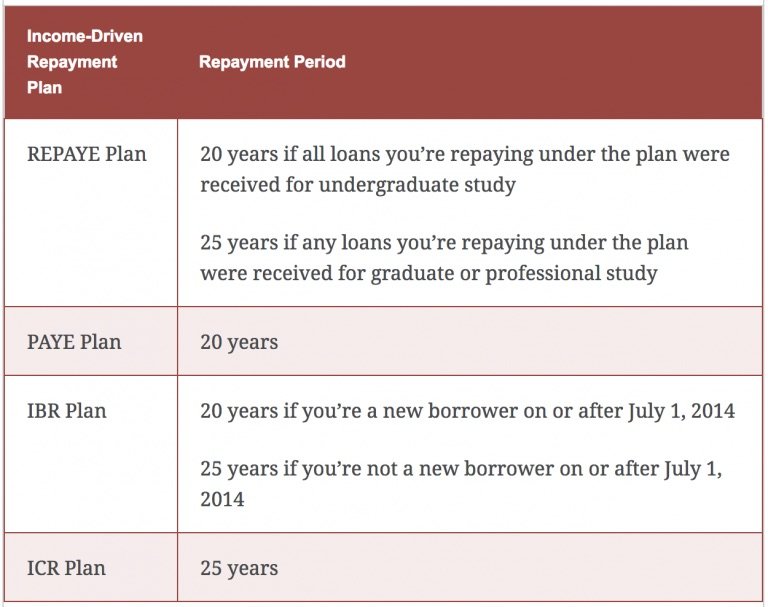 U.S. Department of Education
It is especially important for people who work in nonprofit or government jobs to understand their income-driven repayment plan options.
After making 120 consecutive federal student loan payments (10 years) while working in the public or nonprofit sector, you may be eligible for public student loan forgiveness.
But if you are in forbearance, you are not making any payments at all, which means you do not get credit toward your 120 payments goal.
If you are in an income-driven repayment plan, however, those payments will count toward your public student loan forgiveness required payments.
2. 'Once you enroll in an income-driven repayment plan, you're set for life.'
Contrary to what your student loan company may tell you, it is absolutely vital to re-apply for income-driven repayment plans each year. That is because the plans are based on your annual household income. If your income changes during the year, you need to update your income on your income-driven plan in order to calculate the proper monthly payment.
If you do not renew your IDR plan, you could wind up with higher student loan payments you cannot afford and you may risk falling into delinquency again. What's more, you have to be enrolled in an income-driven repayment plan in order to qualify for federal student loan forgiveness. If you let your enrollment lapse, you could derail your eligibility for future loan forgiveness.
Unfortunately, millions of student loan borrowers fail to renew their income-driven repayment plans each year. The CFPB is working to crack down on student loan companies that do not properly inform borrowers about the deadline to renew, but it's also up to borrowers to stay on top of their enrollment status.
In order to renew your plan, contact your student loan company directly and ask them to re-enroll you. Alternatively, you can download the application and fill it out yourself here: Income-Driven Repayment Plan Request.
Before you enroll in an income-driven repayment plan, know the cons as well as the pros. You may reduce your monthly payment but pay more in interest over the long term. Also, if your loans are ultimately forgiven, you may owe federal tax on that forgiven amount. Use this student loan repayment calculator to find out if IDR is the right plan for you.
3. 'We're happy to allocate your payment to whichever loan you want.'
Student loan borrowers often have multiple loans to manage. Let's say you've got five student loans. One month, you realize you have an extra $200 to put toward those loans. Theoretically, you should be able to ask your loan company to take that extra $200 and apply it to the loan with the highest interest rate.
It is generally considered wise to allocate extra payments toward whichever loan has the highest interest rate. This way, you are working to reduce the loan that is accruing the most interest each month and avoiding spending more on interest than you have to.
In the case of Navient, the CFPB alleged that the company's representatives repeatedly misallocated borrowers' payments. In order to fix the issue, the borrowers themselves had to keep a close eye on their monthly payments and alert the company.
It's important to review your loan statements carefully each month to be sure your payments are allocated the way you desire. Some student loan servicing websites make it fairly simple to allocate your payments manually, without having to rely on the help of one of their loan specialists. Even so, play it safe and double-check your loan statements to be sure your payments are being applied according to your wishes.
Read the original article on Magnify Money. Copyright 2017. Follow Magnify Money on Twitter.